Case report
Open Access
Open Peer Review
This article has Open Peer Review reports available.
Marathon related death due to brainstem herniation in rehydration-related hyponatraemia: a case report
Journal of Medical Case Reports
2007
1:186
Received: 03 August 2007
Accepted: 28 December 2007
Published: 28 December 2007
Abstract
Introduction
Identifying marathon runners at risk of neurological deterioration at the end of the race (within a large cohort complaining of exhaustion, dehydration, nausea, headache, dizziness, etc.) is challenging. Here we report a case of rehydration-related hyponatraemia with ensuing brain herniation.
Case presentation
We report the death of runner in his 30's who collapsed in the recovery area following a marathon. Following rehydration he developed a respiratory arrest in the emergency room. He was found to be hyponatraemic (130 mM). A CT brain scan showed severe hydrocephalus and brain stem herniation. Despite emergency insertion of an extraventricular drain, he was tested for brainstem death the following morning. Funduscopy demonstrated an acute-on-chronic papilledema; CSF spectrophotometry did not reveal any trace of oxyhemoglobin or bilirubin, but ferritin levels were considerably raised (530 ng/mL, upper reference value 12 ng/mL), consistent with a previous bleed. Retrospectively it emerged that the patient had suffered from a thunderclap headache some months earlier. Subsequently he developed morning headaches and nausea. This suggests that he may have suffered from a subarachnoid haemorrhage complicated by secondary hydrocephalus. This would explain why in this case the relatively mild rehydration-related hyponatremia may have caused brain swelling sufficient for herniation.
Conclusion
Given the frequency of hyponatraemia in marathon runners (serum Na <135 mM in about 13%), and the non-specific symptoms, we discuss how a simple screening test such as funduscopy may help to identify those who require urgent neuroimaging.
Keywords
Retinal Nerve Fibre LayerMarathon RunnerBrain HerniationOptic Disc OedemaPeripapillary Retinal Nerve Fibre Layer
Introduction
Rehydration-related hyponatraemia and immediate death from brainstem herniation after a marathon is exceedingly rare [1]. In contrast, the risk of acute rehydration-related hyponatraemia (Na<135 mM) in marathon runners is frequent (about 13% [2]). The classical symptoms of acute hyponatraemia are non-specific and comprise lethargy, nausea/vomiting, irritability/restless, disorientation, headaches and muscle weakness/cramps [2, 3]. In severe cases drowsiness/confusion, psychosis, seizures, depressed reflexes, neurogenic pulmonary oedema, cerebral infarction and respiratory arrest may develop. Ultimately, brain oedema, herniation and brainstem death occur. To the best of our knowledge there are only two reports of marathon runners in whom brainstem herniation due to hyponatraemic encephalopathy was the suspected cause of death, but neither of these cases was sufficiently well documented in the medical literature to allow for discussion of the clinical presentation and signs needed for further teaching [1, 4]. Here we present the first detailed report of a case of rehydration-related hyponatraemia with brain herniation in a marathon runner, and give a didactic discussion of the core clinical features needed to be recognised in the Emergency Room.
Case presentation
A male aged in his 30's was admitted to the Emergency Room following collapse in the recovery area following a marathon. He had completed the marathon within around 4 hours on a sunny but cold day. In the Emergency Room he felt faint and dizzy and complained of a headache. His GCS was 15/15, pupils were reactive and his general medical examination was normal. He had a blood pressure of 130/70 mmHg, the ECG showed sinus rhythm of 80 bpm, his chest X-ray did not show any evidence for pulmonary oedema. His blood glucose was 5.4 mM and the Na was 133 mM. He was one of hundreds of athletes presenting at the same time with very similar symptoms, thought to be related to dehydration, and consequently received intravenous rehydration (1 L of 5% Dextrose and 1 L 0.9% NaCl). Four hours after his initial collapse he suddenly vomited and his GCS dropped to 11/15. Shortly after this he suffered a respiratory arrest requiring tracheal intubation. An urgent CT scan showed midbrain herniation into the foramen magnum (Figure
1E
and
1F
) and severe hydrocephalus (Figure
1A–D
), but no fresh blood. An emergency blood screen showed a mild hyponatraemia (Na 130 mM) [
2
], thought to be due to excessive rehydration. Serum osmolarity was 279 mosmol/kg and urine osmolarity 126 mosmol/kg with normal serum urea (5.0 mM). Serum CK was elevated to 948 IU/L thought to be due to the strenuous exercise. He was then transferred to a nearby neurosurgical centre where an extraventricular drain was inserted for emergency management of high ICP due to hydrocephalus. The ICP was not measured, but the CSF came out under high pressure. On subsequent admission to the intensive care unit (8 hours after his collapse in the recovery area) his pupils were noted to be fixed and dilated and funduscopy demonstrated an acute-on-chronic optic disc oedema [
5
]. The pupils remained fixed and his GCS was 3/15 off sedation. He underwent formal testing for brainstem death 8 hours after the sedation had been turned off. A postmortem examination was not performed.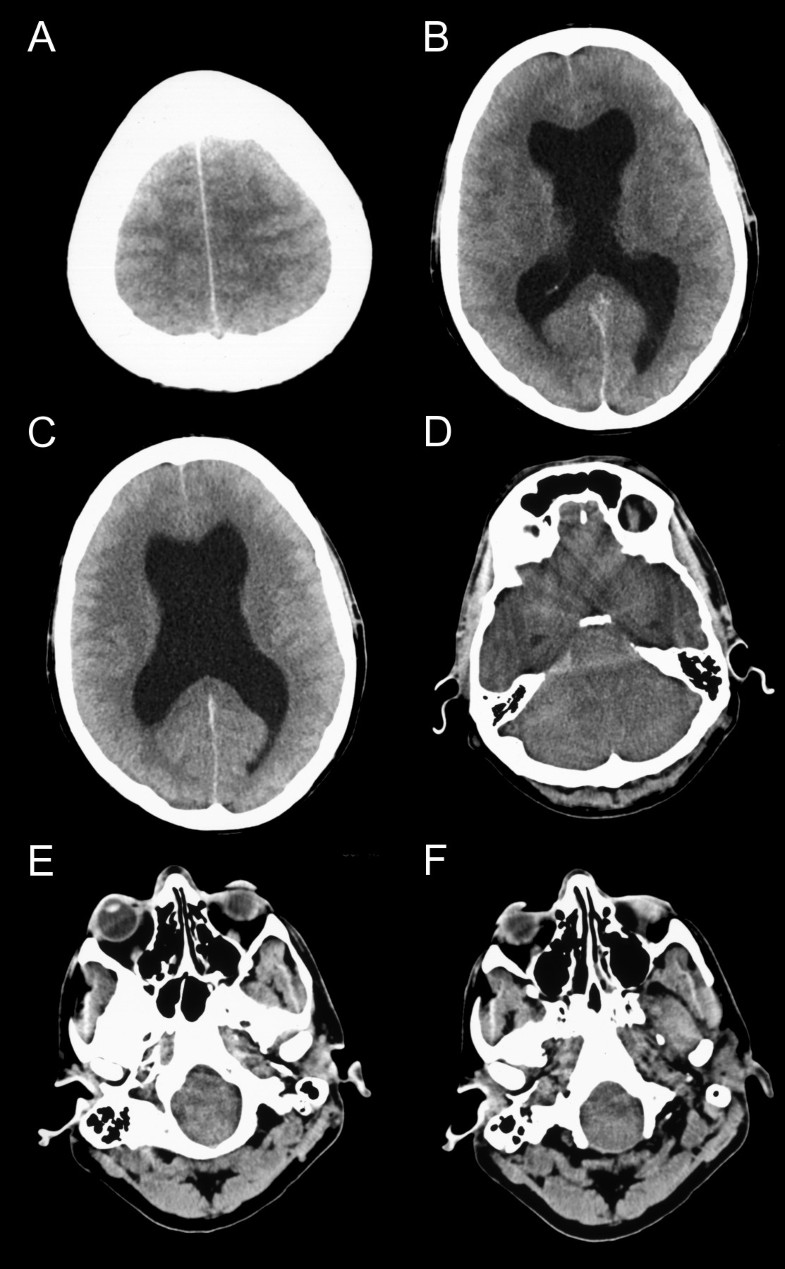 A CSF sample was taken during the operative procedure and sent for spectrophotometric assessment of pigments to evaluate whether this could be a CT-negative SAH with secondary hydrocephalus. CSF spectrophotometry did not reveal any trace of oxyhaemoglobin or bilirubin [6], but ferritin levels were considerably raised (530 ng/mL, upper reference value 12 ng/mL) consistent with a previous bleed [7]. Together, these findings suggested that a subarachnoid hemorrhage, complicated by secondary hydrocephalus may have occurred prior to the race. On further questioning of his widow it emerged that the patient had experienced a severe headache three months earlier following an increase in his running schedule. The headache became intolerable and prevented him from sleeping. He felt nauseous, vomited and was unable to move his head because of neck pain. The general practitioner who was called out recorded a high blood pressure and administered paracetamol for pain relief. The patient was unable to return to work for 3 days. The headaches continued in a waxing and waning fashion over the following weeks. He started to develop morning sickness, lost his appetite and stopped having breakfast altogether. Despite these symptoms he continued to increase his running schedule. When he completed his first 22 mile run two months later, he experienced another period of severe headache which was attributed to dehydration. Oral rehydration did not help and he continued to feel run-down to a degree which made it impossible for him to return to work for another 2 days. One month later he ran and finished a marathon whereupon he collapsed and died from brain herniation, a likely consequence of hyponatraemic brain swelling on a background of hydrocephalus secondary to a previous subarachnoid hemorrhage (SAH).
Discussion
This tragic case illustrates several problems which are frequently seen in the Emergency room: hyponatraemia, headaches and nausea.
Conclusion
In conclusion, a simple clinical test such as funduscopy in the Emergency Room may allow for early identification of those athletes who require neuroimaging. With the benefit of hindsight it may have been possible to have suspected a SAH or the presence of intracranial hypertension on the basis of the clinical signs and symptoms in this case.
Consent
Written, informed consent for publication was obtained from the next of kin. A copy of the written consent is available for review by the Editor-in-Chief of this journal.
Abbreviations
CT:

computer tomorgraphy
CSF:

Cerebrospinal fluid
GCS:

Glasgow Coma Scale
ICP:

intracranial pressure
NFL:

nerve fiber layer
SAH:

subarachnoid haemorrhage
SVP:

spontaneous venous pulsation.
Authors' Affiliations
(1)
The Tavistock Intensive Care Unit, The National Hospital for Neurology and Neurosurgery, UK
(2)
The Department of Neuroimmunology, The Institute of Neurology, London, UK
Copyright
© Petzold et al; licensee BioMed Central Ltd. 2007
This article is published under license to BioMed Central Ltd. This is an Open Access article distributed under the terms of the Creative Commons Attribution License (http://creativecommons.org/licenses/by/2.0), which permits unrestricted use, distribution, and reproduction in any medium, provided the original work is properly cited.