Complications of spilled gallstones following laparoscopic cholecystectomy: a case report and literature overview
Journal of Medical Case Reports
2009
3:8626
Received: 8 October 2008
Accepted: 6 March 2009
Published: 24 July 2009
Abstract
Introduction
Gallbladder perforation is common and occurs in 6 to 40% of laparoscopic cholecystectomy procedures. In up to a third of these cases, stones are not retrieved and complications can arise many years post-operatively. Diagnosis can be difficult and patients may present to many specialties within medicine and surgery. We seek to present our case and review the literature on prevention and management of "lost" stones.
Case presentation
Our patient is a 77-year-old woman who presented to the urology clinic with a loin abscess that developed five years after laparoscopic cholecystectomy. Radiological studies showed retained abdominal gallstones and an associated abscess formation. These were drained under ultrasound guidance on several occasions and the patient now suffers from chronic sinusitis. Due to her age and comorbidities, she has declined definitive surgical intervention to remove the stones.
Conclusion
Gallbladder perforation during laparoscopic cholecystectomy is a reasonably common problem and may result in spilled and lost gallstones. Though uncommon, these stones may lead to early or late complications, which can be a diagnostic challenge and cause significant morbidity to the patient. Clear documentation and patient awareness of lost gallstones is of utmost importance, as this may enable prompt recognition and treatment of any complications.
Keywords
Laparoscopic Cholecystectomy
Actinomycosis
Pigment Stone
Urology Clinic
Gallbladder Perforation
Introduction
In the current era of minimally invasive surgery, laparoscopic cholecystectomy has become the gold standard for the surgical treatment of symptomatic gallstones. However, with the increase in the number of laparoscopic operations performed, there has also been a noticeable increase in the number of complications specific to these procedures. Gallstones can be spilled during an open cholecystectomy, but these stones are eliminated usually through direct removal, copious irrigation and mopping with laparotomy sponges. In laparoscopic procedures, these techniques are more difficult or unavailable and so stones can disappear from view and can become "lost". Studies show that the incidence of spilled gallstones during laparoscopic cholecystectomy accounts for 6 to 40% of procedures performed, while 13 to 32% of such operations result in lost stones [1, 2]. Complications from stones that are left within the peritoneal cavity can cause unusual but significant morbidity.
Case presentation
A 77-year-old woman presented to the urology clinic with a two-week history of night sweats, right back pain and loin swelling. Her medical history included a laparoscopic cholecystectomy for gallstones five years before presentation. Other than a similar pain noticed six months previously, there had been no known complications from the surgery. On examination the patient had a tender, fluctuant swelling in the right lumbar region with overlying skin erythema. Her blood tests showed a neutrophilia of 7.7 × 109/litre and C-reactive protein of 134 mg/litre. A computed tomography (CT) scan showed a complex subphrenic, subhepatic and subcutaneous collection. The patient's abscesses were drained under ultrasound guidance and the drains left in situ. The pus grew Escherichia coli on culture. The patient was then treated with antibiotics for ten days and discharged home.
Three weeks later the patient reattended hospital with similar symptoms and ultrasound and CT scans showed a perihepatic and subcutaneous reaccumulation of fluid, with a 1cm gallstone adjacent to the right lobe of her liver (Figure
1
). The abscesses were again drained. A barium enema of the colon was arranged to exclude a neoplastic cause for the abscess, but the result simply showed mild sigmoid diverticular disease and no fistulous connection. In addition, a contrast study through the percutaneous drain did not reveal any connection with intra-abdominal viscera. Therefore, the patient was diagnosed with intra-abdominal sepsis secondary to retained gallstones at the time of her laparoscopic cholecystectomy.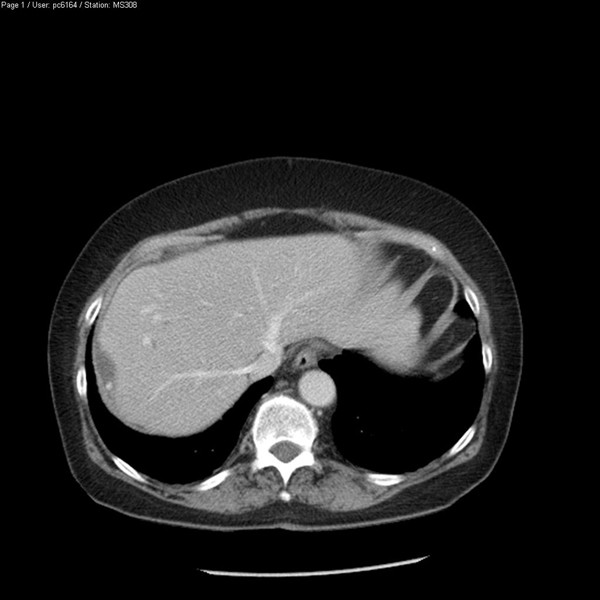 Subsequently, the patient was treated as an out-patient, but her ultrasound scans (USS) continued to show collection of pus, which had to be drained three more times. The patient also developed chronic sinus discharge, and still went to the out-patient clinic 18 months after her initial presentation. A sinogram showed her sinus connecting with the right paracolic gutter and extending upwards and posteriorly (Figure
2
). After identification of the offending gallstone on a second CT scan, the patient was offered surgery to remove the offending gallstones but declined this mode of treatment. At the time of writing she wished to continue with conservative management unless further problems arise.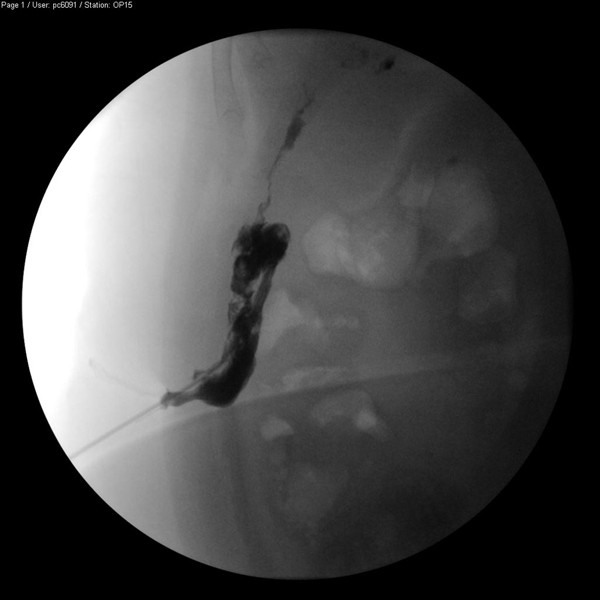 Discussion
We reviewed the published literature on spilled stones after laparoscopic cholecystectomy to discuss the risks, complications and management of patients who suffer from these lost stones.
Conclusions
Gallbladder perforation during laparoscopic cholecystectomy is a reasonably common problem and may result in spilled and lost gallstones. Though uncommon, these stones may lead to early or late complications, which can be a diagnostic challenge and cause significant morbidity to the patient. Proper care should be taken to avoid stone spillage. Should spillage occur, clear documentation and a high index of suspicion for complications should be maintained for early recognition and treatment of complications from this surgery.
Consent
Written informed consent was obtained from the patient for publication of this case report and any accompanying images. A copy of the written consent is available for review by the Editor-in-Chief of this journal.
Abbreviations
CT:

computerised tomography
MRI:

magnetic resonance imaging
USS:

ultrasound scan.
Declarations
Acknowledgements
Imperial College London has funded the publication of this article.
Authors' Affiliations
(1)
Imperial College London, London, UK
(2)
Princess Royal University Hospital, Farnborough, UK
Copyright
© Helme et al; licensee Cases Network Ltd. 2009
This article is published under license to BioMed Central Ltd. This is an Open Access article distributed under the terms of the Creative Commons Attribution License (http://creativecommons.org/licenses/by/3.0), which permits unrestricted use, distribution, and reproduction in any medium, provided the original work is properly cited.