Case report

Open Access

Open Peer Review
This article has Open Peer Review reports available.
Recurrent purpura due to alcohol-related Schamberg's disease and its association with serum immunoglobulins: a longitudinal observation of a heavy drinker
Journal of Medical Case Reports
2016
10:301
Received: 1 April 2016
Accepted: 12 September 2016
Published: 31 October 2016
The Erratum to this article has been published in Journal of Medical Case Reports 2016 10:329
Abstract
Background
It is unusual for purpura to emerge as a result of drinking alcohol. Such a peculiarity was observed in a 55-year-old man with a 30-year history of heavy alcohol use.
Case presentation
The Caucasian patient was studied for 11 years during several detoxification treatments. During the last 2 years of that period, purpuric rashes were newly observed. The asymptomatic purpura was limited to both lower limbs, self-limiting with abstinence, and reoccurring swiftly with alcohol relapse. This sequence was observed six times, suggesting a causative role of alcohol or its metabolites. A skin biopsy revealed histological features of purpura pigmentosa progressiva (termed Schamberg's disease). Additionally, alcoholic fatty liver disease markedly elevated serum immunoglobulins (immunoglobulin A and immunoglobulin E), activated T-lymphocytes, and increased C-reactive protein. In addition, moderate combined (cellular and humoral) immunodeficiency was found. Unlike the patient's immunoglobulin A level, his serum immunoglobulin E level fell in the first days of abstinence, which corresponded to the time of purpura decline. Systemic vasculitis and clotting disorders were excluded. The benign character of the purpura was supported by missing circulating immune complexes or complement activation. An alcohol provocation test with vinegar was followed by the development of fresh "cayenne pepper" spots characteristic of Schamberg's disease.
Conclusions
This case report demonstrates that Schamberg's disease can be strongly related to alcohol intake, in our patient most likely as a late complication of severe alcoholism with alcoholic liver disease. Immunologic disturbances thereby acquired could have constituted a basis for a hypersensitivity-like reaction after ingestion of alcohol. Schamberg's disease induction by vinegar may point to an involvement of acetate, a metabolite of ethanol.
Keywords
Purpura
Schamberg's disease
Alcohol
Acetate
Hypersensitivity-like reaction
Background
Cutaneous manifestations of alcohol abuse can rarely include purpura, which at first sight could be related to acquired clotting defects such as thrombocytopenia and vascular fragility resulting from liver cirrhosis [1, 2]. Purpura is caused by hemorrhage of small vessels in the skin or mucous membranes and emerges as red or purple spots that do not blanch upon application of pressure on the lesion's surface [3]. Usually, these skin lesions are a hallmark of coagulation disorders or vasculitis [3], such as disseminated intravascular coagulation, idiopathic thrombocytopenic purpura, Henoch-Schönlein purpura (HSP), or hypersensitivity (leukocytoclastic) vasculitis [3–7].
There are a few case reports in the literature of purpura associated with alcohol use. Among them, three were related to HSP [8–10], one was associated with Sjögren's syndrome [11], another one appeared simultaneously with an aspirin-induced platelet dysfunction [12], and a further one was suggested to result from thrombotic thrombocytopenic purpura due to alcohol binge drinking [13].
Moreover, pigmented purpuric dermatoses, such as purpura pigmentosa progressiva (termed Schamberg's disease [SD]), have been described as being associated with chronic drinking [14]. SD can occur in every age group from childhood to senium, is usually benign and asymptomatic, and appears preferentially on the lower limbs. The course is usually persistent and chronic [15], with the exception of drug-induced transients, considering inflammatory purpura under the influence of nonsteroidal anti-inflammatory drugs, acetaminophen, diuretics, meprobamate, ampicillin, and amlodipine [16–18]. Histologically, SD is characterized by patchy parakeratosis, mild spongiosis of the stratum malpighii, and lymphoid capillaritis. Monocytes, histiocytes, lymphocytes, and occasionally mast cells infiltrate the perivascular area. Endothelial cells swell and proliferate, thus forming a rhexis of capillary walls promoting diapedesis of erythrocytes and subsequent deposition of hemosiderin [16, 19]. SD's etiology is obscure, but antigen and other cellular immune mechanisms appear to be involved [19–21]. In addition, an abnormal, spasmlike motility of the capillaries, probably via dysautonomia [22] and stasis pigmentation [23], have been described as being associated with SD.
In this case report, the close interaction of severe alcohol abuse and occurrence of SD is demonstrated. For the first time, to our knowledge, an association of purpura with serum levels of immunoglobulin E (IgE), as well as the induction of fresh SD purpura via drinking vinegar, is shown.
Case presentation
An adult Caucasian alcohol-dependent patient who developed purpura after drinking alcohol was clinically observed from May 2005 to April 2016 at our institution (Table
1
). The last 2 years ("purpuric phase"; cf. Table
1
) were prospectively studied, and the time before that ("nonpurpuric phase") was studied retrospectively. In the "purpuric phase," a skin biopsy was performed, and routine diagnostics at every detoxification treatment were expanded by determination of serum immunoglobulins, complement factors C3 and C4, and circulating immune complexes. Additionally, abdominal ultrasound as well as cerebral and internal diagnostics for clotting defects, collagenoses, and systemic vasculitis were performed. A provocation test with vinegar was performed, assumed to be a challenge test for acetate, one main metabolite of ethanol [
24
]. For ethical, therapeutic, and toxicological reasons, provocation tests using ethanol itself or acetaldehyde were not performed.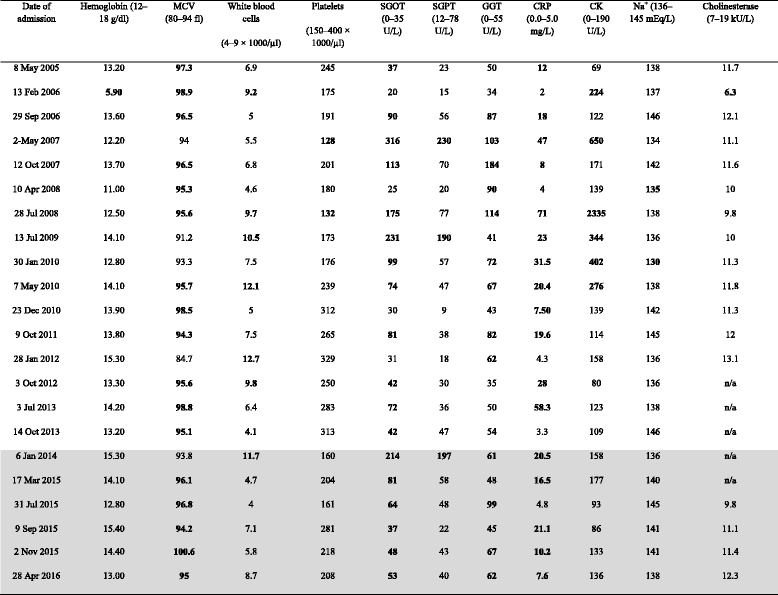 Discussion
This longitudinal observation demonstrates the recurrence of purpura dependent on the intake of large amounts of alcohol, which happened after about 30 years of chronic, heavy drinking. Differential diagnoses, such as coagulopathies and vasculitis disorders, were excluded, whereas typical features of SD were found in a skin biopsy. Immunodiagnostics revealed markedly elevated IgE and IgA levels and activated T-lymphocytes. Symptoms of systemic IgA-mediated vasculitis (HSP), such as migrating arthralgia, gastrointestinal symptoms, renal dysfunction, proteinuria, or hematuria [30, 31], were not present. Furthermore, brain MRI revealed no cerebral micro- or macroangiopathy or hemorrhagic lesions [32].
Conclusions
This case report shows that alcohol-related purpura can be benign, despite occurring for the first time after many years of frequent and heavy alcohol use, and is not inescapably related to acquired or activated vasculitis or clotting disorders. Our patient developed a hypersensitivity-like reaction to ethanol and/or acetate (as shown by raised serum levels of IgE and IgA as well as activated T-lymphocytes) manifesting as SD with recurrent purpura as a consequence of chronic and heavy drinking. SD purpura should be considered in the list of dermatologic alcohol use disorders.
Abbreviations
AD:

Abstinence days
AFLD:

Alcoholic fatty liver disease
C3 and C4:

Complement factors
CD4 and CD8:

Cluster of differentiation 4 and 8, respectively
CK:

Creatine kinase
CT:

Computed tomography
CRP:

C-reactive protein
GGT:

γ-Glutamyltransferase
HSP:

Henoch-Schönlein purpura
Ig:

Immunoglobulin
MCV:

Mean corpuscular volume
MRI:

Magnetic resonance imaging
SD:

Schamberg's disease
SGOT:

Serum glutamic oxaloacetic transaminase
SGPT:

Serum glutamate-pyruvate transaminase
Declarations
Acknowledgements
The authors sincerely thank the patient, who gave consent for publication of this case report. Also, the authors are very grateful to the dermatologists, Dr. Stefan Ulrich, MD, and Dr. Friedrich Wilhelm Jütte, MD (both of Castrop-Rauxel, Germany), as well as the pathologist, Prof. Dr. Kaspar, MD (Münster, Germany), for their helpful diagnostic support.
Funding
The authors declare that they received no funding related to this case report.
Availability of data and materials
No new software or databases were used to produce this case report. In the authors' opinion, the presented information completely guarantees the patient's anonymity.
Authors' contributions
All authors contributed to the treatment of the patient and to the conception, writing, and revision of the manuscript. All authors read and approved the final manuscript.
Competing interests
The authors declare that they have no competing interests.
Consent for publication
Written informed consent was obtained from the patient for publication of this case report and any accompanying images. A copy of the written consent is available for review by the Editor-in-Chief of this journal.
Ethics approval and consent to participate
Not applicable.
Open AccessThis article is distributed under the terms of the Creative Commons Attribution 4.0 International License (http://creativecommons.org/licenses/by/4.0/), which permits unrestricted use, distribution, and reproduction in any medium, provided you give appropriate credit to the original author(s) and the source, provide a link to the Creative Commons license, and indicate if changes were made. The Creative Commons Public Domain Dedication waiver (http://creativecommons.org/publicdomain/zero/1.0/) applies to the data made available in this article, unless otherwise stated.
Authors' Affiliations
(1)
Department of Psychiatry, Psychotherapy and Psychosomatic Medicine, Evangelisches Krankenhaus Castrop-Rauxel, Academic Teaching Hospital of the University of Duisburg/Essen, Castrop-Rauxel, Germany
(2)
Department of Psychiatry and Psychotherapy, University of Duisburg/Essen, Essen, Germany