Editorial

Open Access

Open Peer Review
Evolving dimensions in medical case reporting
Journal of Medical Case Reports
2011
5:164
Received: 28 October 2010
Accepted: 27 April 2011
Published: 27 April 2011
Open Peer Review reports
The full translational potential of medical case reports (MCRs) is not always considered by authors, periodicals or readers, as MCRs are often perceived as a low-budget form of publication for fledgling medical writers. The acceptance rate for MCRs and their priority for publication are lower than those for other manuscripts in traditional journals. It is important to emphasize that prospective, retrospective and observational randomized controlled trials are always constructed on the basis of data obtained from individual patients whose cases are the units that create the cohort, allowing the investigator to define end points and make inferences by calculating effect sizes. It is safe to say that all classes of evidence (Classes I through III) are constructed using the accumulated units of observation comprising individual cases. Although MCRs are limited by the fact that they cannot be generalized beyond the context of the individual patient or patients described [1] and thus are not suitable for inference, they offer a high degree of opportunity to transfer medical knowledge and act as educational tools, and in a very direct way.
In this editorial, we attempt to outline the evolving dimensions of MCRs in four particular areas of medical education: (1) reporting of adverse events (AEs), (2) new diseases or exceptional environments, (3) medical innovation and (4) appropriate use of media in terms of ethics, standardization and creativity (Figure
1
).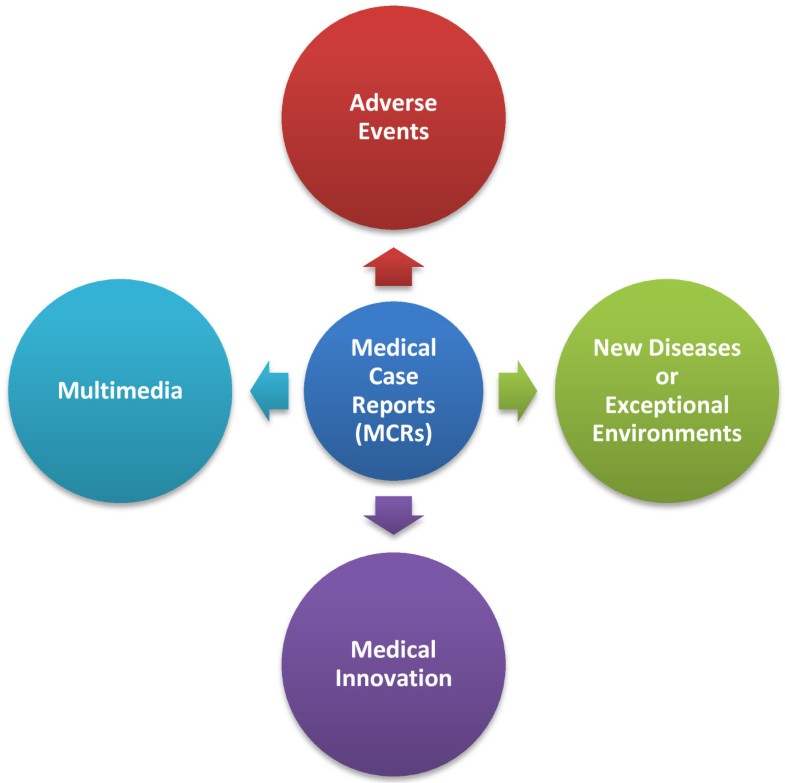 (1)
28 Old Brompton Road, London, SW7 3SS, UK
(2)
Division of Surgery and Cancer, Imperial College London, QEQM Wing, St Mary's Hospital, Praed Street, London, W2 1NY, UK
© Protopapas and Athanasiou; licensee BioMed Central Ltd. 2011
This article is published under license to BioMed Central Ltd. This is an Open Access article distributed under the terms of the Creative Commons Attribution License (http://creativecommons.org/licenses/by/2.0), which permits unrestricted use, distribution, and reproduction in any medium, provided the original work is properly cited.